Why should a directory app integrate the SDK?
Directory apps perfectly fit together with the Clever Dialer SDK because it
naturally extends the directory with the phone call giving the user valuable information
engages the user automatically and immediately
protects users from a very real threat: scam calls
enhances online booking by extending it into the call process
boosts visibility of the directory app without the user having to open it with up to 25 %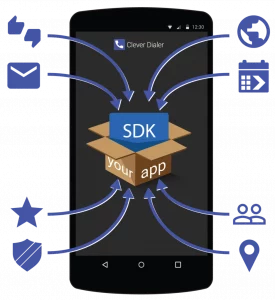 Easy integration – Full control
The Clever Dialer SDK is very easy to integrate and gives the customer full control over the features.
Events can be tracked by the directory app as the SDK exposes them to it's host.
The SDK will be skinned to integrate seamlessly into the directory app.
Technical integration details can be found under: https://docs.cleverdialer.com/
Contact
If you want to know more about the Clever Dialer SDK please contact
Thomas Wrobel
CTO at validio GmbH & Co. KG
tw@validio.de