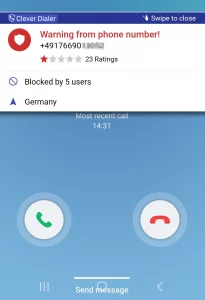 If Clever Dialer can identify a call, it shows Caller-ID or Spam-Warning as soon as the call comes in.
That's how it can look like:
If the app doesn't, though, it can be for various reasons.
Feature has not been enabled in settings
In the Clever Dialer settings, there is an option that says "Information before a call". There you can choose from various options what the app should show you for incoming calls.
If everything is set correctly, and you still do not see any information for incoming calls, it might have other reasons.
Missing permission
In this case, the information will not be shown because Clever Dialer lacks a permission which is essential for this feature. The permission can be granted as follows:
Samsung
Open Settings
Choose Apps
Pick Clever Dialer
Scroll down to Advanced (on some devices this step is not necessary)
Choose Display over other apps
Grant permission
Huawei
Open Settings
Choose Apps
Apps
In the list, find and open Clever Dialer
Tap on Display over other apps and activate the option
Motorola
Open Settings
Choose Apps & Notifications
Pick Clever Dialer
Choose Advanced
Pick Display over other apps and activate the option
Nokia
Open Settings
Choose Apps & Notifications
Choose Advanced
Select special app access
Choose Display over other apps
In the list, find and open Clever Dialer
Xiaomi
Open Settings
Choose Passwords & Security
Pick Security
Select special app access
Choose Display over other apps
In the list, find and open Clever Dialer